On-site Arsine Gas Generators
Premissa provides on-site, on-demand arsine (AsH3) gas generators for production of compound semiconductors, solar cells, and LEDs which eliminate the need and safety hazards of traditional compressed arsine cylinders. Premissa uses a unique, patented electrochemical process  with a refillable solid source canister to electrochemically generate  ultra-pure arsine at lower cost than compressed arsine cylinders.  The generators can also automatically provide blended arsine/hydrogen mixtures, at the pressure needed, to your MOCVD reactor. The Premissa arsine generators eliminate the hazards to employees and community of compressed arsine gas cylinders at your Fab
No cylinder transportation to your plant
No cylinder storage
No cylinder change-outs
Premissa was founded to make production, distribution and handling of gases such as arsine and other toxic hydrides:
Faster. On demand, onsite, always available 24/7.
Better. Highest purity (>99.9999%) at lower cost than arsine gas cylinders–without the hazards. Fully automated production, simple graphic interface to chose arsine delivery time, concentration, and pressure for your MOCVD run.
Safer. No cylinders, cylinder delivery, changeouts or storage.
Efficient. Low energy consumption. Electrochemical process–instant ON/OFF.
Scalable. Pallet size canister modules; 5 slpm, with up to 50 kg arsine delivery per module (that's equal to 20 to 50 arsine gas cylinders!)
Easier, Lower Cost. Refillable canisters designed for continuous operation, shipped by air-freight or truck
Based on over 25 years of prior experience with electrochemical industrial gas production, Premissa's newly patented technology is the ONLY process providing industrial scale on-site arsine gas generation.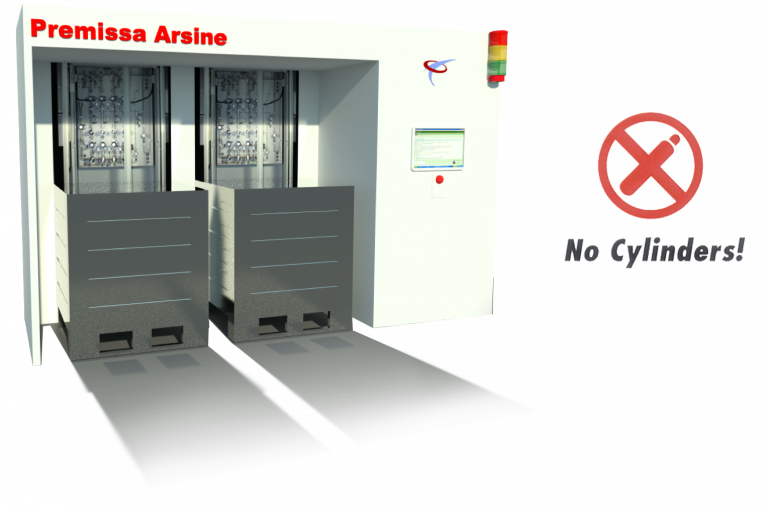 Remote or adjacent to your MOCVD reactor- Highest purity, lowest cost arsine. Fully Automated. Failsafe.
We've created a new kind of arsine generator, designed for efficiency and safety. Click on any of the links below to learn about all the features Premissa's generators have to offer.
© 2018 - 2023 Premissa, LLC
Find us at the EcoComplex
Premissa, Inc.
EcoComplex
1200 Florence-Columbus Rd.
Bordentown, NJ 08505
Phone: +1 (732) 735-5655
Email: info@premissa.net